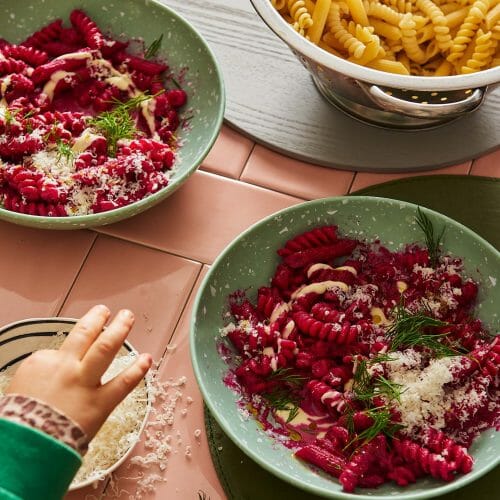 Beetroot & tears pasta
There's something very borsch-y about this pasta. Think of it as half-dip, half-pasta sauce… a beetroot pesto, with a spike of (optional but very invigorating) vodka for funk. Use whatever soft nuts you have in the pantry (incidentally, if you still have any nuts left in the pantry, put them in the fridge/freezer – they'll last longer!). If your beetroots come with full glitz tops, they are just as delicious and valuable as the roots – rinse and soak them well, blanch, then blitz to combine with a similar combo of garlic, nuts and olive oil to make even more beet dip/sauce mix! If you're a smaller household, save the tops and use in soups, stews and sautes, as you would silverbeet or rainbow chard. To make this vegan, just replace the parmesan with a tablespoon or 2 of miso paste and the butter and sour cream with your preferred substitutes. This makes about 2 cups of sauce without the addition of pasta water. Typically, a serve of dried pasta is about 75 -100g per person, so if making this for a crowd (8-10 people), you'll have enough sauce – just do your maths on the pasta portions. Save the other half for a delicious dip with crudites or toasty bread, or make the pasta again! It'll also freeze for up to 6 months.
PRINT
Ingredients
4

medium beetroot

roots scrubbed, tops rinsed and soaked

1

bulb garlic

top trimmed to expose the cloves

¼

cup

olive oil, plus extra for serving

2

tbsp

vodka

optional but very invigorating

50

g

butter

½

cup

softer nuts

such as macadamias, cashews, or pine nuts

Zest and juice of 1 lemon

2

tbsp

richer-flavoured vinegar

such as balsamic or red wine vinegar

3

cups

bottom of the pack short pasta

½

cup

sour cream

plus extra for serving

50

g

Parmesan

finely grated

Dill fronds for serving
Instructions
Place scrubbed beetroot and garlic bulb on a double piece of foil, sprinkle with a pinch of salt flakes and pour over the vodka and oil. Fold up into a package and place in a cold oven, then set the heat to 200℃ (180℃ fan) and bake for an hour and a half or until beetroot is fork tender (if it's a smaller garlic bulb, feel free to carefully fish it out at the 45 minute mark – the steam from the beetroot should keep it tender, but you can never be too careful with those capricious cloves).

In the meantime, gently heat the butter and sauté the nuts until golden, add in the finely chopped, soaked and spun beetroot leaves, saving the tenderest ones for garnish, and sauté the rest until cooked. Reserve in the pan.

When the beetroot is done, use kitchen towel to wipe off the skin, then chop into chunks, and add to the reserved sauté pan along with the squeezed-out-of-the-skin garlic. Toss about to combine.

Transfer the mix to a blender and blitz, adding lemon zest, juice, vinegar, and a good pinch of salt flakes. Taste for seasoning, then place half of the sauce back into the pan.

Place a large pot of water on to boil.

Add a handful of salt to boiling water and cook pasta to al dente, following the packet instructions for each (if you're cooking different shapes, add each shape incrementally from longest to shortest, according to how many minutes it needs). Scoop out a good jugful of pasta water, and drain the rest (or save it in the fridge for the next time you forget to scoop your pasta water!). Plonk the pasta and a splash of pasta water into the sauce pan, adding more pasta water as needed to loosen up and make a silky sauce. Stir in half the Parmesan and serve into warmed bowls, drizzling with thinned-down sour cream and sprinkle with remaining parmesan, freshly ground pepper, olive oil, dill fronds, and the reserved tender beet leaves.