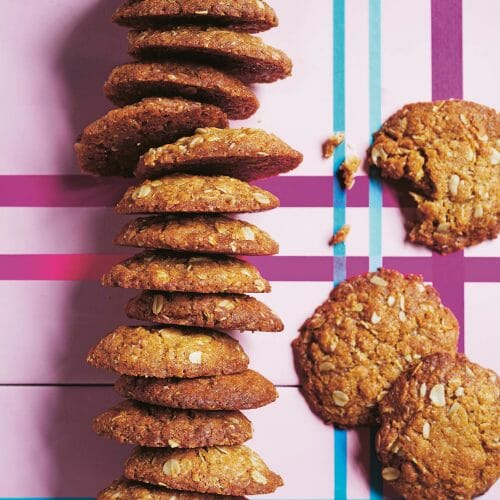 Anzac bikkies from The Joy of Better Cooking
My pal Monique Bowley's Anzac bikkies are a viral sensation Down Under every April, and I'm so pleased to have been given her blessing to share these oaty wonders far and wide. I've added a sprinkle of salt flakes on each biscuit, because I couldn't help myself. Feel free to ignore this addition, which is decidedly un-true to the recipe. For chewier biscuits, add another tablespoon of water. For crunchier ones, bake for 20 minutes at 170℃ (150°C/300°F fan). If you're the type who craves a perfect circle, place a round heatproof jar slightly bigger than the biscuit over the top while the biccies are still warm on the tray, and shake the biscuit to shape.
PRINT
Ingredients
1

cup

rolled oats

1

cup

raw sugar

1

cup

plain (all-purpose) flour

¾

cup

desiccated coconut (that's the fine one)

125

g

(4½ oz) butter, melted

2

tbsp

golden syrup

½

tsp

bicarbonate of soda

(baking soda)

3

tbsp

boiling water

1

tsp

sea salt flakes

optional
Instructions
Preheat the oven to 180℃ (160°C/315°F fan). Line two baking trays with baking paper. (Light-coloured trays are preferable here. Dark ones are okay, but they absorb more heat, so you'll need to keep an eye on the biscuit bases, to make sure they don't get too dark.)

Pop the oats, sugar, flour and coconut in a bowl and stir together with a wooden spoon.

Melt the butter and golden syrup together in a small saucepan over low heat. Meanwhile, pour boiling water over the bicarbonate of soda in a small bowl and stir until it dissolves. Add the 'soda' water to the butter mixture in the pan and let it foam up. Pour the foamy mixture into your dry ingredients and stir to combine.

With a small bowl of water by your side, wet your palms and roll the biscuits into golf balls — 35 g (1 oz) per ball, if you're using scales. Space them out on the baking trays with 4–5 cm (1½–2 inches) between each to allow for spreading. Sprinkle a little salt flake action on each ball, if you like.

Bake for 15–18 minutes, or until golden brown, watching for uneven hot spots (where the biscuits on one part of the tray start colouring faster than the rest) and rotating the trays 180 degrees if need be.

Allow to cool on a wire rack, then store in an airtight container in a cool, dry place (not the fridge, or they'll go soggy!).
Notes
Gluten-free flour will work here. It gives a crumblier finish, so adding an extra tablespoon of water will help. Some people who are gluten intolerant will be okay with rolled oats, but do check first and replace with something like quinoa flakes instead.
If you don't have golden syrup, you can use treacle, honey or molasses instead.
Turn these into the ultimate ice-cream sandwich by scooping some vanilla ice cream between two bikkies, squashing them together and getting stuck in. You can even refreeze them as sangas for special occasions. Or, you can grab them while still warm for a taste sensation (as long as your teeth can handle it).